One of the most enjoyable moments in the design your pool area is selecting the pavers in Jacksonville, Florida. There are many different materials that pavers are made of and equally as many colors, patterns and designs to choose. Creating a unique space with pavers can be challenging but worth all the hard work.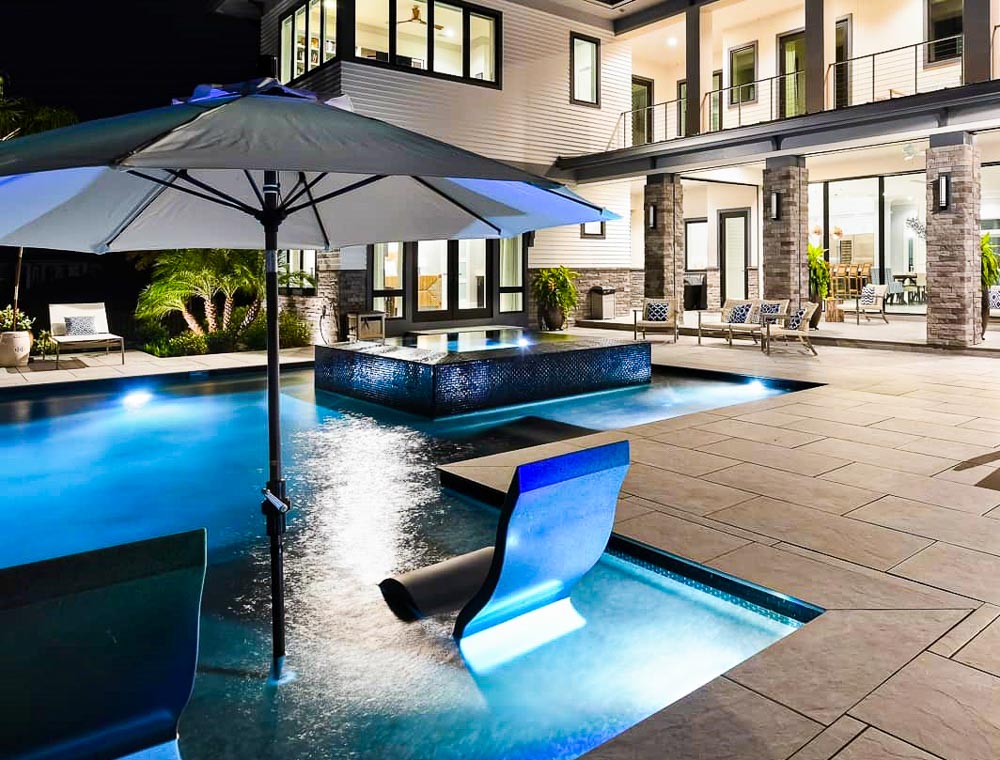 Pavers are made from a wide variety of materials including: brick, concrete, natural stone, porcelain, and clay. Some designer pavers are made from glass mosaics, but these are custom pavers and are not commonly sold by paving companies. However, some of the most dramatic paving designs include these amazing works of art, and for those with the right budget and patience, artisan glass mosaic pavers may be just the right pavers in Jacksonville, Florida for your pool decking.
Porcelain pavers are generally larger squares that are about an inch thick. These light colored pavers create a dramatic accent to any outdoor space and provide functionality as well. They can be used for walkways, patios, pool decking and accent. Although porcelain is normally associated with being a delicate product, porcelain pavers are strong and durable, yet aesthetically pleasing.
More popular pavers include travertine, which is a natural stone that has been tumbled to bring it out the stones natural color variations and beauty. This process also ensures the stones used are durable. Travertine is normally cut in rectangular or square pavers and is available in various sizes. Bullnose (curved finishing tiles) pieces are often matched carefully to compliment or match the travertine tiles.
Brick and clay pavers can be laid out in herringbone patterns that make the design pattern more pleasing and intricate. Today homeowners seeking pavers in Jacksonville, Florida often opt for the simplicity of brick and rely on the design and color to add the pizzazz they are looking for.
Thanks to modern technology, pavers come in a variety of colors. Some paver colors are a result of the natural stone or clay used to create them, such as the gorgeous brick red or the subtle shades of creams and yellows that are inherent in travertine. Some coloring is added in the process of creating the pavers, which is how blue bricks are created, and some color is already in the paver, but is brought out with the use of sealer that has a color boost property. Natural stone pavers may be a variety of colors, depending on where the stone was quarried. Pavers can also be stained to achieve the color the homeowner desires.
Paver designs are influenced by factors such as homeowner requests, paver shapes and artistic talent. Common designs for brick are herringbone and circular. Traditional designs are often enhanced by using special pavers such as bishop's hat, a triangular shaped paver that is versatile and can be incorporated with square and rectangular pavers to create unique and eye catching patterns.
Whatever design homeowners choose for their pavers in Jacksonville, Florida, the result is a long lasting pool deck that encompasses the pool area and bullnoses to the pool edge.